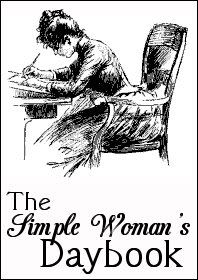 To join, please
visit this site
Outside my window
... Humid weather, summer in the Philippines is really something! One would wish to go to the beach as often as possible or even take a long vacation in Baguio City- the summer capital of the Philippines -which I say is my most favorite city in the world! I wish we could go there sometime...
I am thinking
... of the paperwork that we need to work on. Can't divulge the situation just yet, but it's going to be huge. Am excited of what will come!
I am thankful for
... the summer holiday of my children which means summer holiday of the wallet. I hope I can also save for the next school year.
I am wearing
... black strappy top because of the warm weather, and striped brown shorts. I'm barefooted, need to add :)
In the learning rooms
... I'll be teaching my youngest "Cupcake" some basic math with math games suited for his age. He learned counting up to a hundred, a few months ago but when he counted from the chart to "teach" his second cousin .. he forgot some. I'm positive he can learn again in time for school next year.
I am going
... just to my malunggay farm this late afternoon to check on the trees. Will see if I'll be going someplace else much later.
I am reading
... Rich Dad, Poor Dad by Robert Kiyosaki... it's just an 80 page book but with great ideas there! Glad that I got the time to read despite having the book for almost a year now. It's about getting off the"rat race" of having a 9-5 job.
On my mind
... I am calm and okay today, not being affected by anything. Thanks for the prayer and meditation too. Could have been from the wonderful dream I had.. of being in Manila and seeing friends.
From the kitchen.
.. Stir-fried vegetables - Chopsuey- cooked by my eldest, because "I'm busy" today.
Around the house
... clutter, as usual... crayons, pencils, paper... we got no energy to clean up much because of the weather (again) but I'll work on that later as I will work on the inventory of my ebay stuff.
One of my favorite things
... is to catch up on much needed rest, for now.
From my camera...
I got two photos from my son Popcorn's graduation last April 5th ...
one, with him and Cupcake. That's my son, always serious even for the camera!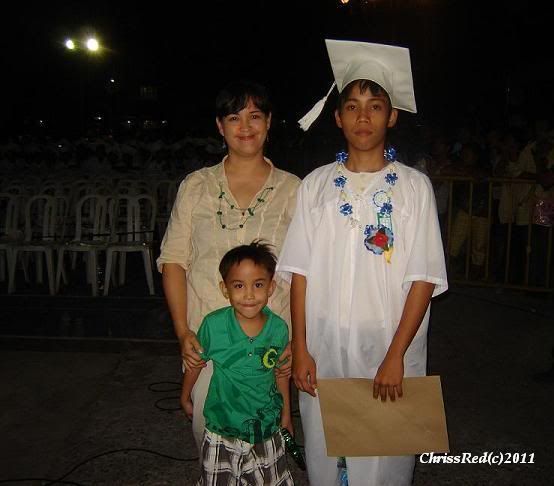 And here below, hubby and me. That look? We hope the camera would work right :)