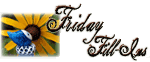 1.
In the near darkness
I hope to sleep not so restfully as we need to keep watch at night, some strange things have been happening out our front door.
2. My eldest has not gone back to nursing assistant class
til further notice
.
3.
But this
summer, now that his brothers are on summer break, I would like him very much to go back to his classes.
4. Summer is sweltering hot, I wish I could cool my heels at noontime
in the stream.
5.
It's always nice
to work around the house nowadays.
6. I enjoy my boys' jokes,stories
and pleasant company
.
7.
And as for the weekend, tonight I'm looking forward to
__,
tomorrow my plans include
_working on our new farming project on vermiculture
and Sunday
, I want to rest and relax after I come home from church.
See more Friday Fill Ins
here