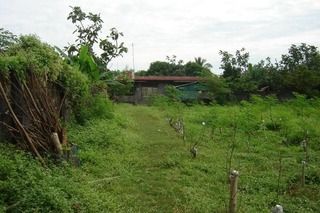 Thanks for the visit!
Here's an update: we are now selling moringa oleifera seeds / malunggay seeds all year round. Please visit my page here
Just the picture that welcomed me back, after I summoned the courage to visit the field again in November 16. After much research from the farming forums, I went back with all organic sprays and tools to remedy the yellowing of the leaves.
Not much problem anymore since the yellowing has stopped since we've treated them initially with sulfate. What gives me a headache, you might guess, is the weeds that have grown all over the place due to neglect and lack of time when my hubby was busy assisting a family friend during the baranggay elections. Actually, that picture above reads "I can do all things through Christ who strengthens me." Ha-ha! Indeed it's true! I could not imagine how I can get these things done, yet we'll be almost done - fingers crossed and hoping there won't be any rain during the afternoon.