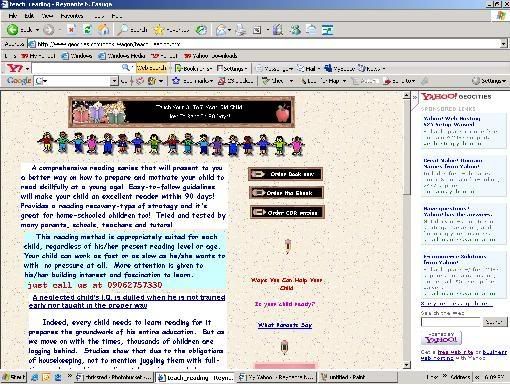 This was screenshot of the website at geocities. It used to be found at http://www.geocities.com/book_wagon/teach_reading
It's what I call my "bread and butter website" because it's one of my online selling websites where I sell so well and I take joy in it for it has helped my family since 2001.
I came a long, long way in selling. As I may have mentioned before in my previous posts, it had it's ups and downs because of my trial-and-error strategies.
Hardly believe that it's still doing well despite all the odds and to think that I just gradually developed it by just visiting other leading websites where I got more ideas. Who would believe that back then I didn't have my own computer and merely worked on this thru my frequent visits to the internet cafe in town? Yes, I spent hours and hours online, thinking how I can improve the website - and my online selling skills (which,honestly, I'm not really good at.)

But thank God, the time I spent paid off.
I thought of putting up this website on Geocities (because it's also free!) so I can accept orders easily and at the same time give instant information to the interested parents/ teachers. That way they won't need to text or email just to inquire more about it, unless truly necessary, because it's all there.
Also, since I'm offline most times, I added an automatic order form which they can fill out in a jiffy. I got it from Createforms. This, too, is free. Purchasing customers can fill in their Name, Address, Email Address, Preferred payment method and book format. Two order forms are necessary to fill out and complete the purchase:
ORDERFORM1 and ORDERFORM2
This way, no request or inquiry is missed and every customer is attended to.