I love the feisty Senator Santiago I saw tonight on tv! Even the usually lax Secretary Raul Gonzales, who usually fidgets in his swivel chair when being interviewed, looked snappy.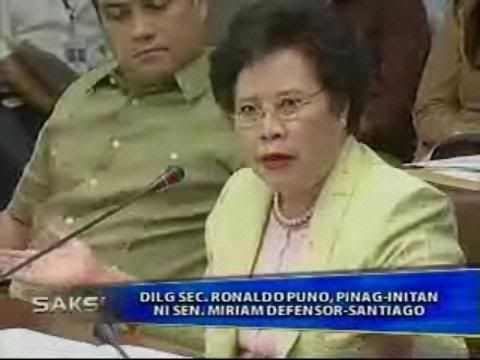 The reason, plenty. Most importantly, Retired PNP comptroller (retired) Eliseo dela Paz was then a no-show at the Senate Proceedings, despite his assuring statement on the news. Sen. Miriam Santiago was upset: "Why isn't he here?Why doesn't he come out. ... The innocent is as bold as a lion!"
It was just one of those ordinary evenings that I didn't want to spend sitting infront of the tv, not even for the evening news. But her words caught my attention and made me sit on the sofa watching the news for more. I love her for she has a quick mind, speaks eloquently and doesn't dilly-dally on matters like these.
I chose not to comment on the case of the "euro generals" involved in the 6.9M found in Moscow on Dela Paz. I'm just, of course, a bystander. What I would like to commend here is Sen. Santiago's no-nonsense attitude. I like her when she is so mad at crooks and exposes their wrongdoing. Surely you would love her too when she is on your side and if you share her point of view. She reminds me of my mom who just says what she wants to say =)
Watch her here
to see what transpired during the proceedings.
uh-oh, if I was the bad guy involved, I would worry...
PNP chief pondering his next move
****************************************
Flashback muna, I once saw her guesting on Mel and Jay years before on the issue of philandering husbands. No, her husband isn't the philandering type but she was there to give her funny anecdotes. I remember her saying, " If I find out that my husband has another woman I would give him a slap left and right and throw the cabinet at him" Of course she was just being funny.
When I was in my teens and she was the Immigration Commissioner (an office I dread to face) She made raves then of weeding out crooks in the department, hurray for her! Sana may ganoon uli na tulad ni Sen. Santiago and would listen to our "foreigner living in the PI" story. And of how we cope with our immigration concerns. oops, just a little rant, but I'll stop now.
The news today made me look hopeful that justice will be served. I dread to see more situations where there is news of corruption and the perpetrators were caught off-guard and exposed - yet you still see them out in public many years later.
May the Lord God bless and guide our leaders!
(images courtesy of Inquirer and GMA.tv)