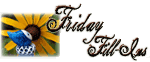 1. I can't believe
we've got new and better internet connection with perks!
2.
Caring
for everyone.
3. How can I
motivate my children to keep busy this summer
?
4.
Baked potatoes with butter
was the last thing I cooked.
5. Six of one
makes a mad mathematician out of me. The mere mention of numbers, haha. It's a joke!
6.
Staying awake and stressing out
; nonono!
7. And as for the weekend, tonight I'm looking forward to
being online yes, on a Friday
, tomorrow my plans include
working on our next farm project
and Sunday, I want to
go to church as usual with my 5-year-old.