I'm writing this entry to give attention to a huge task that needs improvement and assistance in our school system, and maybe we (the PTCA members) ought to think of involving the parents, officers and members. Please don't get me wrong, I love this school because my boys are safe there and most teachers know us personally - that is also the reason why I'm not naming it. I merely want to share my observation and a few ideas I brainstormed with other parents about when we were there. It's really important for me to get my reader's say on the matter, please leave a comment or any suggestion. It will be appreciated... then maybe I can present them perhaps at the closing of this school year.
***
My family woke up early today to get ahead in enrolment and to avoid the long wait or the long queue at SJNHS (it's a public school near our town).
What was perplexing is that the incoming freshmen (us) were asked to queue up at the
Multi-purpose Building for submission of form 138 and birth certificate. 3 minutes later, change of plan, we were sent to the Guidance Office instead.
Yet from there, a minute later, we were sent back to where we came from. Oi, imagine that - we queued up then broke, then queued up and broke. My son and I went from being #5 to #18 to #33. The line was slow, that my hubby and I had to change places. See me at my plainest below (promise!).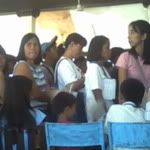 Jellybean took the picture, but er.. I just kept my joking mood while waiting... and having idle chat with the other "nanays".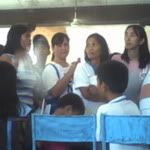 My worst jokes? "The teacher-in-charge comes back every commercial break, she's an avid follower of the show
"Ruffa and Ai"
Then later again, I say "Looks like this line is for buying movie tickets to a Sarah Geronimo movie!" corny, right?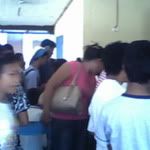 A-ha, later on a fight ALMOST ensued between two parents over who's in charge - the teachers or parents. A parent near the submission desk told most of us to just leave our children's credentials on the table and the faculty will look into that. (Sort of she was giving out the wrong information) The other parents, one after the other, wondered why some were submitting their papers ahead. Then the faculty in charge had to clarify to those within earshot that she didn't give that direction - we, in turn, passed on the message (And the papers too!) Imagine the time wasted just for that. Ayayay!
Anyway,my friends, you probably got the details when you kept updated with me via twitter. Even the more eternal ordeal when we went to the next building for our 2 other boys' enrolment.
Shocking, eh? Well, pasensiya! ;-)
You just have to smile and retain your cool as some parents and students try to bypass the system, daring even to create 2 more lines nearest the desk, without the approval of the faculty.
So here's, hehe......Super Christine to the rescue! I called on the guard to maintain order. Then some of us parents helped watch the submission desk and see that no one edges their way to the short-cut. Even my hubby watched there, people must've thought he was the newly appointed security guard because of his demeanor. It took us 'til quarter past 1 to get done there.
One thing is sure, the faculty members are short-staffed this time. I personally think having PTCA officers should have helped or at least had some parents volunteer to help. And if they would, they sure can count me in.. at least for the first 2 days :)
As we were waiting for hours in line, I can't help but think of other solutions to this or think of lessons to be learned. A-ha, (1) Google "how to organize an efficient enrolment system"! (2) How about using card number system perhaps? (3)Or having enrollees stay two feet away and wait in line like what we do when transacting in a bank? And having a megaphone handy especially in places where you expect a huge crowd and you can hardly hear above it the noise? (4)How about having the parents submit enrolment credentials and payment inside an envelope (which will be duly-checked first) and giving them a number with a scheduled date to pick-up?
I hope, sana, that teachers can also look for a better place for parents/enrollees to line up for their credentials. Please better test your plan at noon when the sun is at its hottest to see how comfortable enough it will be for us.
I admit, I have no clue how the school enrolment system can work better, but I'd like to give a few untested suggestions and if given a chance, I hope to suggest it in a meeting. I believe my idea will be used better when leaders/officers will hear it. My ideas are just that and I strongly believe that two or more heads are better than mine.
My idea is, at this age of technology and advancement, it is a waste of time employing a disorganized method of enrolment. Keeping a journal of the past events make the next one better.