So I'm taking care of myself and watching my every step today.... I still love to sing Irene Cara's "Fame" (I'm gonna live forever) and Gloria Gaynour's "I Will Survive" ..... Uh, sorry, that was a lame shot at humor.
Kidding aside, when I think of my departed relatives now, I feel alone at times. No one here can tell me something more about them, about my father and grandmother, I mean. I only have bits
and pieces from what I can recall about them, which my late mother and a few relatives here told me.
My father was born before the World War 2 in Hedemuenden, Germany. He worked at the German Embassies in Prague, in London and in Berlin as secretary, respectively.
My mother when she was still with the Philippine Embassy in Hamburg.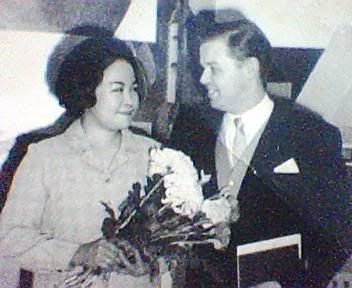 My father and mother during their civil wedding.
They got married exactly two years before my birthday.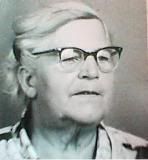 My grandmother, who was an industrious and kind woman, was from Czechoslovakia. My mother and her always got along. She majored in Home Economics and was really a good homemaker. From my mother's stories, my Oma loved to work on her embroidery, I actually still have the handiwork she worked on as a keepsake. And her collection of silverware and china.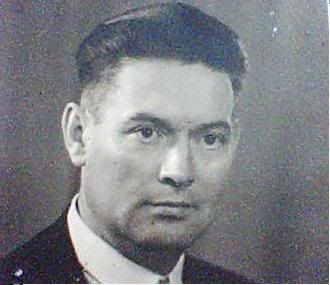 My grandfather, according to my mom, died after the war when my late father was still a young lad. I was looking among my files, even the Familien-Stammbuch, and I found his obituary. I don't know the meaning of the rest of the words but it says he died in November 1950. So I guess my father was 7 years old by that time.
That is all I know or all I remember about my German relatives. I hope of searching for more, most times trawling through the genealogy databases, GEDCOMs and what-have-you of family histories. Sad to say, I've hit the brickwall many times because our surname is spelt differently. Sometimes it's Buelchmann and sometimes with the "umlaut" (the two dots on top of 'u')
We jokingly refer to as
"Two dots on top of you"
Yet that doesn't mean I've stopped searching. I've searched for anybody with the same surname as mine but nothing came of it. Then, since I'm admittedly a slow learner, I googled it last year and I came up with 3 people from the same town where my father grew up. And I also found one doctor, one jeweler and one minister. Wow! And there is a possibility I might reach them via whitepages too. I also have our family tree on
www.dynastree.com
and on
www.myheritage.com
in hopes that someone will search for me too.
But one tiny issue which may be a hindrance, my knowledge of Deutsch is terrible. It's a disgrace, I may need Google Translate on hand. But I am still in the process of
learning German words
I am actually in my 12th lesson now of
Learning German For Beginners
.

That'll do for now, so, will keep you posted!
This is what Hedemuenden looks like, as shared by a new friend.
_______________________________________
SEARCH MEMBERS OF YOUR FAMILY TREE: